We're a regular taco night family. It's an easy meal that we often turn into taco salad night which just means our taco ingredients go over top of crunched up tortilla chips. This time we decided to give taco night an Asian flair.
Take away the tortilla chips and swap out a few ingredients to change up the flavor profile and you've got yourself a brand new salad that requires the same amount of prep and cooking time. This meal takes a total of 20 minutes from heating up the first pan to putting the fork in your mouth. Easy peasy.
I've never really cooked with hoisin sauce and I had some leftover from another Asian-style meal. It has great flavor with a combination of soy sauce, ginger and chili pepper to kick things up. It seemed like a natural fit here too. Mango goes so well with savory dressings and they are in season right now so organic mangos are readily available.
My husband and I were happy the way dinner turned out tonight and clean-up with a cinch. When I make it again, I'm going to add a cup of jasmine rice to each serving. It's something you might consider doing if you're not afraid of some extra carbs. If you are on a low-carb diet, this is a perfect meal as long as you look at the sugar content in the hoisin sauce. You may want to add the ginger, soy and chili yourself to eliminate the sugars.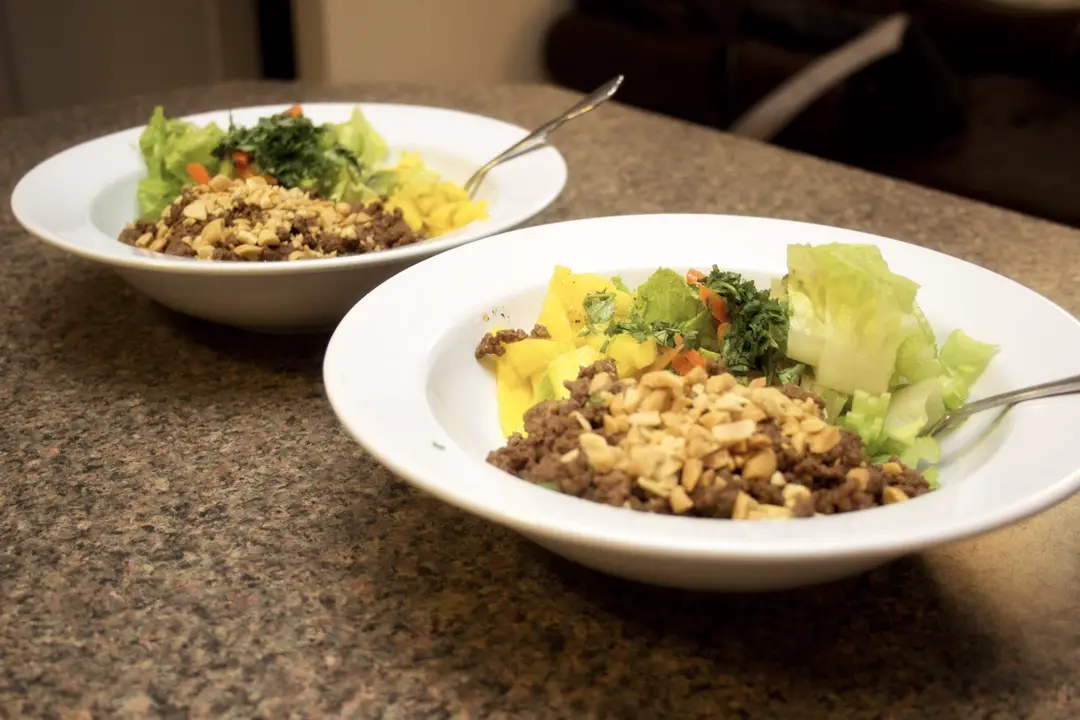 Cheap Weeknight Dinner with Asian Flair
Ingredients
1 pound ground beef
2 large cloves of garlic, minced
2 Tbsp hoisin sauce
2 Tbsp plus 1 teaspoon low-sodium soy sauce
1 Tbsp Sriracha hot chili sauce
1 1/2 Tbsp rice vinegar
1 Tbsp olive oil
1 tsp sesame oil
1/4 tsp kosher salt and black pepper
1 head romaine lettuce, torn
2 carrots, cut into thin strips
1 celery stalk, cut into thin moons
1 mango, cut into thin strips
1/2 cup fresh cilantro, coarsely chopped
1/4 cup roasted peanuts, chopped
Directions
Brown ground beef in a large skillet over medium-high heat. About 5 to 7 minutes. Add minced garlic just before it's finished.
Stir in the hoisin, 2 tablespoons of the soy sauce, and the Sriracha. Remove from heat.
In a small bowl, combine the vinegar, oil, the remaining teaspoon of soy sauce, and ¼ teaspoon each salt and pepper.
Divide the lettuce, carrots, celery, mango, cooked beef, cilantro, and peanuts among bowls. Drizzle with the dressing and serve immediately.