La Botanica Organica
On our recent trip to the Caribbean side, we discovered that the best restaurants are the breakfast ones. There aren't a ton open before 9am but there are a few that we went to and fell in love with. The first morning we were there our local friend brought us to a little place called La Botanica Organica (make sure you like their Facebook page), who has the freshest, most organic produce you can find around Puerto Viejo.
From their page:
Breakfast and Lunch Menu:
Super Goji Berry and Hemp Seed Granola…Whole wheat Pancakes.. Whole Wheat French Toast, Organica Eggs.. Organica Coffee and tea.. Lentil Burgers.. Hummus Sandwiches.. Fresh Salads.. Lunch Specails.. Vegan, Veggi and Raw and Gluten Free Options!
In the Shop: Everything from Tea Tree Oil to Natural Deodorants and Toothpaste.. tinctures.. natural Medicines.. Essential Oils.. Incense .. Crystals.. Special Ordering available
While most small farms in Costa Rica can't afford the official certification for organic status, some are abiding by all best practices and with a tour of the farm you can see it for yourself. These small farmers are sought out by the owner of La Botanica Organica and they have an open and honest working relationship. One of the goals of the restaurant is to help the local economy so they don't grow the food themselves, but rather support those in the area. It's a great concept.
When we walked in we immediately noticed the concrete floors (mainly because my husband is now doing decorative concrete) with imprints of Costa Rican flora. It was rustic, yet modern, just how we like it and it fit in perfectly with the foliage creeping in from all sides of the place.
The rest of the charming decor included rustic wood benches and tables with centerpieces poised with local flowers and verigated leaved plants. They had their morning delivery of produce spread out on a back table which allows you to see just what your prepared food is made of. The kitchen is open where you can see a few locals running around putting together everyone's orders. The macrobiotica on site is just off of the main patio for easy access after you eat.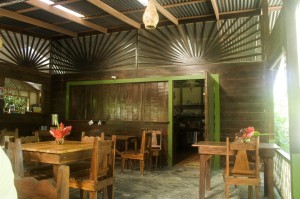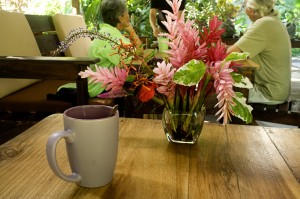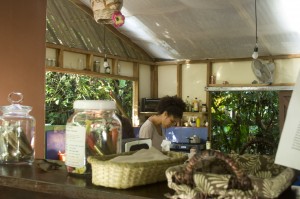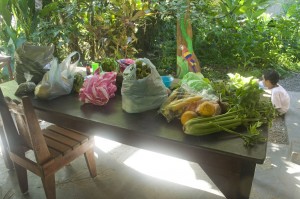 We started off with cups of rich organic Costa Rican coffee and for me (a 'coffee-only-in-case-or-emergencies' drinker) a cup of hot herbal tea with dried tropical fruit, lemon grass and other local herbs. We quickly moved on to our breakfasts of organic whole wheat pancakes with fresh pineapple topping, a free-range egg scramble with broccoli, onion, bell pepper and feta cheese with fresh baked whole grain bread (amazing!) and a bowl of fabulous granola and local yogurt with goji berries. The three of us tried each others food and agreed that we picked a place that will become a regular stop for us. We live in San Jose, but plan to make it back to the Caribbean side more often.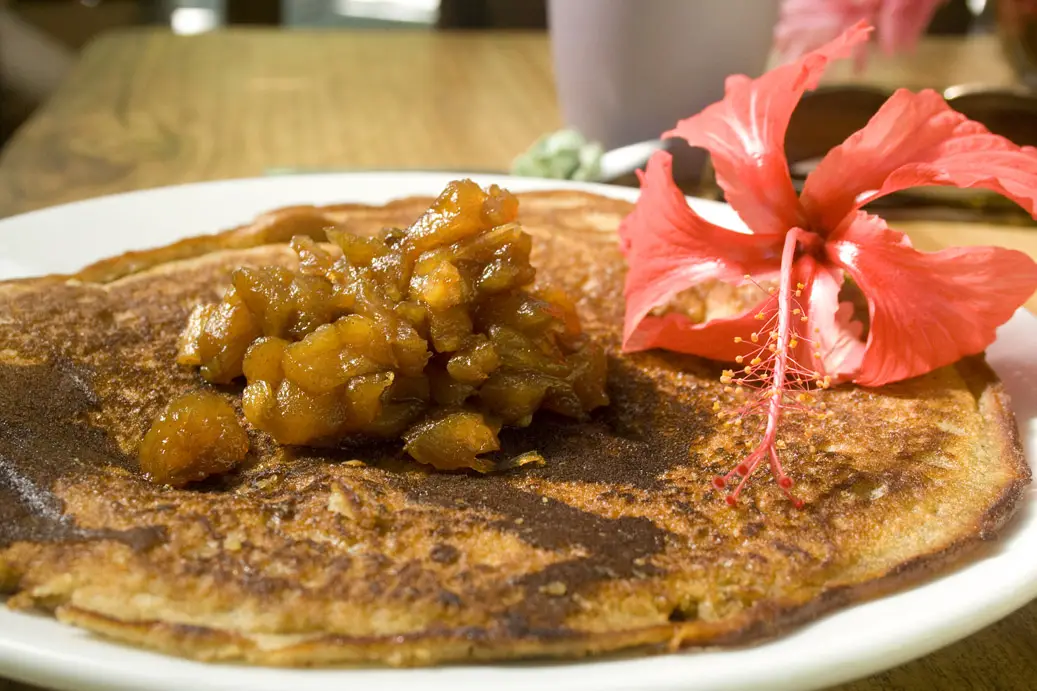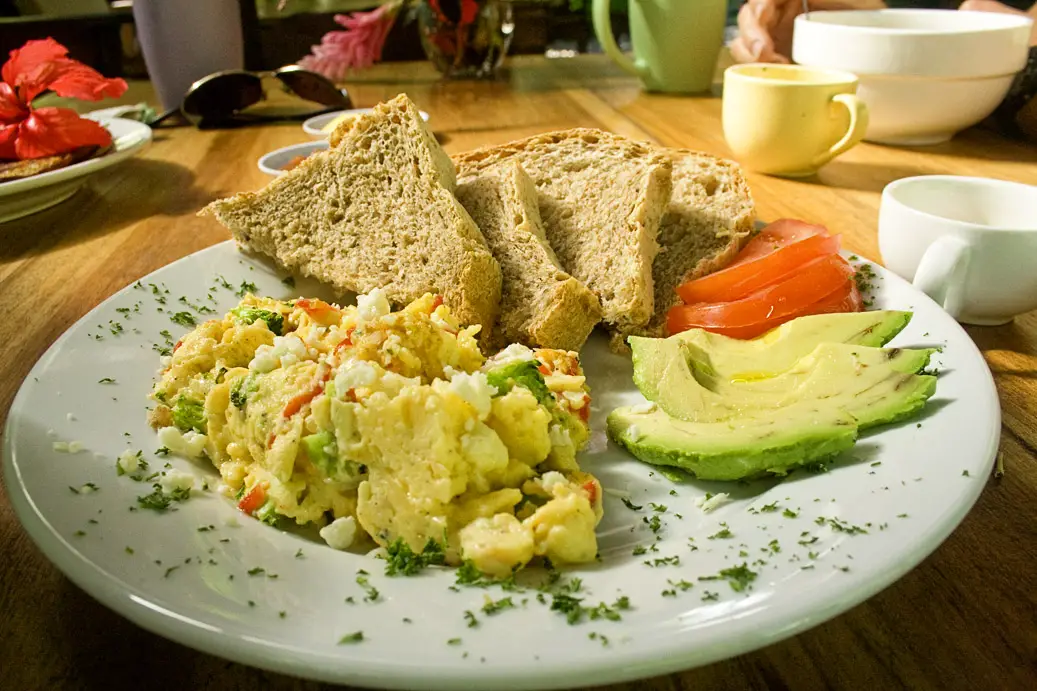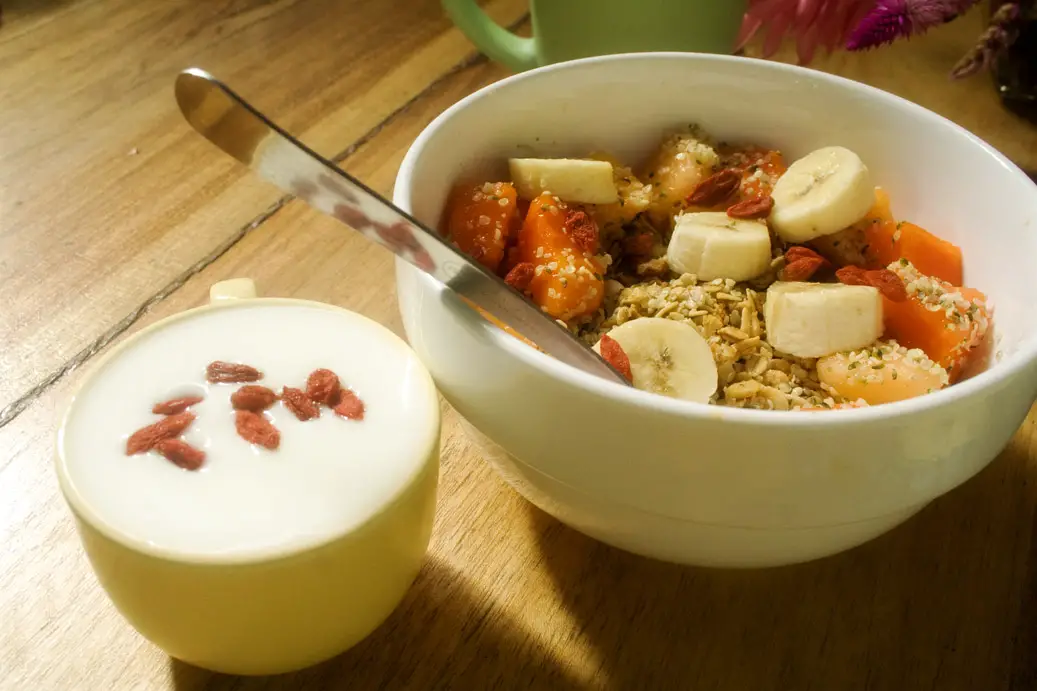 When we were done we felt satisfied and reminded again why we live here. The owners are from California and have adapted well to living the pura vida life. They contribute to the local economy, make delicious food which is sometimes hard to find here, and have cheerful, attentive waitstaff. Thanks for a great start to an amazing weekend in Puerto Viejo, Talamaca, Cocles. You'll be seeing us again soon.
After visiting the restaurant we moved on to visit the Jaguar Rescue Center just down the road to play with some monkeys! Make sure you support them, it's totally worth the $15 per person for the tour.