Acorn Squash, Pear & Quinoa make a perfect fall meal. Let me just start out by saying this is a breakthrough recipe. It stands far and away from most recipes I've discovered or created. Bravo to Sprouted Kitchen and thanks for sharing this with the world initially.
Hard squash isn't something I've cooked with on a regular basis or explored really at all. Outside of yellow squash, zucchini and the occasional pumpkin, I'm kind of a squash virgin. This recipe actually called for a Kabocha squash but without really knowing what that was, I reached for the most similar looking one, an acorn squash. It turns out they are very closely related, but the Kabocha is from Japan originally.
I can't argue with anyone that fall is the time to explore cooking with squash since you can't walk down an aisle at the farmer's market or in the produce department without seeing a literal cornucopia of them on display. The acorn squash is especially hard, making it almost impossible to cut into and imagining eating one. But, baked in the oven for a good 30-45 minutes and they soften right up. The seeds are just like those from it's close cousin the pumpkin, which you can bake too. That is my absolute favorite part about Halloween, so, of course, after cutting the acorn squash in half I scooped out the seeds, cleaned them off, threw them on a cookie sheet with some Old Bay Seasoning and baked them to a crisp. Just a little bonus to recipes with acorn squash.
The way this recipe is put together with contrasting and complimentary flavors is brilliant. There is a tang in the lemon juice and sweetness of the pear that jumps right out with the squash, shallot and cardamom. In my case I used Garam Masala seasoning which is heavy on the cardamom, but also has some other Indian spices in there to bounce off the other flavors. I won't keep you from the recipe any longer (if you haven't already skipped down to it). Here it is, with a slight variation from the original:
Acorn Squash with Pear and Quinoa Salad
Ingredients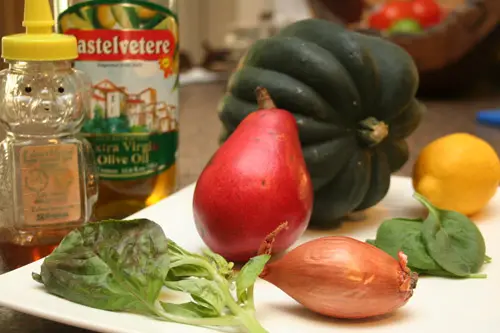 1 Acorn Squash
3 tbsp. Fall Seasonal Honey
2 Tbsp. Olive Oil
1 Cup cooked Quinoa
1 tsp. Garam Masala seasoning
1 Shallot, Minced
1 Hard Pear, peeled, cored and diced
1/3 Cup Basil, Chopped
3 Tbsp. fresh squeezed lemon juice
1 Cup Baby Spinach
Salt and Fresh Pepper to taste
Directions
Preheat oven to 425 degrees
Slice Acorn squash in half, scoop out the seeds and brush with a mixture of 2 Tbsp honey and 1 Tbsp olive oil. Season with salt and pepper.

Bake for 20 minutes, flesh side down. Flip and bake for another 20 minutes or until golden and soft.

Meanwhile, prepare the salad. In a small mixing bowl combine the cooked but cool Quinoa, spinach, shallots and diced pear. Toss with basil, Garam Masala, lemon juice, remaining olive oil and honey. Mix well.

Once the squash is done baking, remove it from the oven and allow to cool for 10 minutes.
Place squash halves on plates and fill with Quinoa salad mix.

Serve immediately.