Dishes are just a bit fancier when they have an edible vessel. Take stuffed peppers, stuffed mushrooms, quinoa salad in an acorn squash, taco salads in a tortilla shell bowl, etc. This recipe is no exception and up to this point I hadn't ever used a cucumber as a vessel for a recipe, but it works great.
One of the ways that you can significantly reduce your food budget is to make your own snacks. We've featured a few recipes already (Homemade Crackers with Sage and Cayenne, Olive Oil and Sea Salt crackers, Flatbread with Garbanzo Flour) that keep you out of the cookie/cracker/chip aisle at the grocery store where we know a TON of money is spent and you stray the most from your grocery list. It's a whole lot of cravings and eye candy there, so best to stay away.
We decided to find a healthy snack that would work for a family or to bring to a dinner party/tailgate that was more creative than chips and dip, wings or sandwiches. So, we tweaked a pesto and hummus recipe to include carrots instead of the beans and unsalted mixed nuts instead of pine nuts, since we're trying to cut down the cost. Here's the recipe:
Carrot Pesto Cucumber Boats
Ingredients
2 Large Cucumbers
1 Large Carrot
2 Small Garlic cloves
10 Fresh Basil Leaves
1/8 Cup of EVOO
1/2 Cup of Unsalted Mixed Nuts
1 Tbsp Toasted Sesame Seeds
Sea Salt and Pepper to Taste
Directions
In a blender or food processor, place carrots, garlic, basil, olive oil and mixed nuts.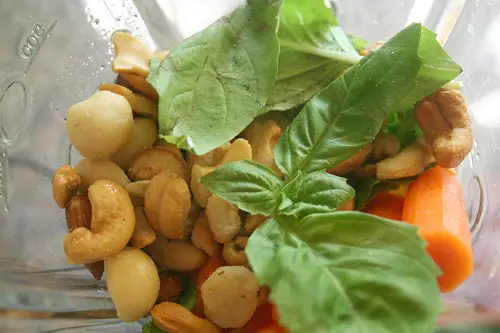 Blend until smooth, stopping to push mix down with a spatula.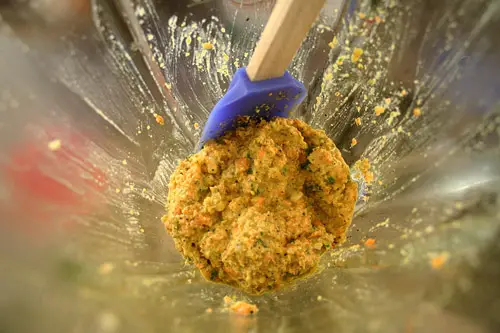 Peel strips off of the cucumber skin and cut off the ends.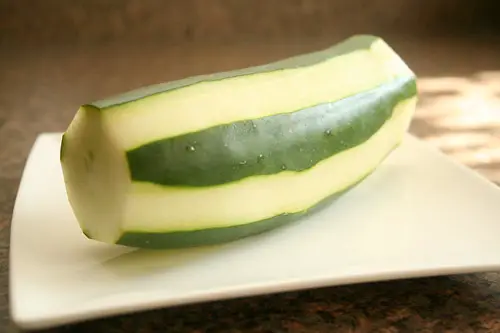 Cut in half lengthwise and scoop out seeds with a spoon.
Scoop filling into the cucumber boats and slice into 1.5″ pieces.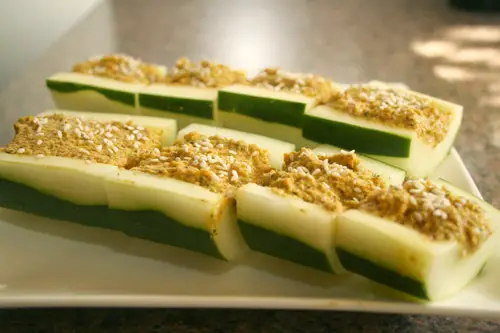 Sprinkle generously with sesame seeds and serve immediately, or cover and refrigerate for up to 24 hours.