This recipe below for Eggplant Parmesan (I love how certain delicious food words need to be capitalized like Parmesan) is a great example of how reducing the amount of meat or removing it altogether from a dish can save you a lot of money. For this dish, the total cost was about $3 since we only used one eggplant and made homemade marinara sauce. However, it's even better to make enough to have leftovers the next day for lunch. I do love the chicken Parmesan variety but this is a great change and is healthy to boot.
Our ingredients for the eggplant Parmesan were found at the Pavas Farmer's Market which is always such a great experience. You get to know the people who represent the farmers and understand a little bit more about where your food comes from. This is a huge way to find cheap food because there are so many farmers represented that they have to keep their prices reasonable. Unlike the grocery stores who know once you're in the store, you're more likely to buy what you came for no matter what the price. At the farmer's market you can just go two stands down and find the price you want. It really keeps everyone honest and in turn saves the consumer a lot of money.
My husband and I can go to the farmer's market and get three reusable bags full of produce and spend less than $20. However, you can't find all ingredients so you have to go to the grocery store for things like pasta and Parmesan cheese. We omitted mozzarella cheese because we are trying to reduce our dairy consumption and it's cheaper to do without it in this case. Feel free to add it because I know how delicious it is for this recipe. So, let me get to the recipe so you can see just how easy and cheap it was to make eggplant Parmesan.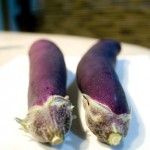 Eggplant Parmesan Ingredients
1 medium-sized fresh eggplant
2 Cups marinara sauce
1/2 Cup of flour
1 1/2 Cups Fine bread Crumbs
1 egg
1 Tbsp garlic powder
2 Tbsp dried oregano
2 tsp salt
1/2 pound of dried spaghetti noodles
3 Tbsp and 1 tsp Olive Oil
Eggplant Parmesan Instructions
In a medium-sized pot, fill 1/2 to 2/3 with water and bring it to a boil.
Break spaghetti noodles in half and toss into the water. Season water with 1 tsp of salt and 1 tsp of olive oil. Let boil for 7-8 minutes or until tender.
Remove, strain and place in back into the pot with 1/2 Cup of reserved starch water. Mix in 1 Cup of marinara sauce and stir until completely covered.
Meanwhile, set up two large plates. In one, place breadcrumbs, oregano, garlic powder and salt and blend together with a fork or your hands.
In the other plate, crack the egg and scramble with a fork.
Slice the ends off the eggplant and then into thin vertical slices about 1/4 to 1/2 inches thick.
Drag each piece of eggplant into the egg, covering both sides and then pressing it into the breadcrumbs also covering both sides.
Preheat a large fry pan on medium heat with 3 tablespoons of Olive Oil.
Place breaded eggplant into the pan and fry for 3-4 minutes per side being careful not to burn the breadcrumbs.
To plate the dish, scoop out a portion of coated spaghetti noodles beside two pieces of eggplant. Cover eggplant with 1/2 cup of marinara sauce on each plate, top with Parmesan cheese and enjoy!