So, i was looking to jazz up our lunch options last Sunday and had just visited the organic food market in Escazú (as you read in the last post). I have seen recipes call for roasted garlic before, but never tried it. So, I decided now was the time. I looked for other ingredients to make a good pasta salad to last for a few extra days this week, and came up with some walnuts and Parmesan cheese. A perfect mix. The salad turned out great, and roasted broccoli has a more hearty flavor than steamed, which was nice for this recipe. Enjoy!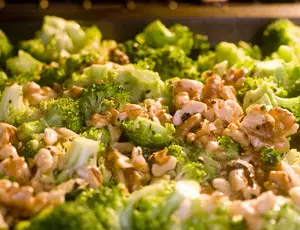 ROASTED BROCCOLI PASTA INGREDIENTS
12 oz Small Shell Pasta
1 Bunch of Fresh Broccoli, cut into florets
1/2 C. Walnuts coarsely chopped
1/4 C. Extra Virgin Olive Oil
2 Cloves of Garlic, pan seared and smashed
2 Tbl Unsalted Butter
1/4 C. Grated Parmesan Cheese
1/2 Tsp Salt
1/2 Tsp Pepper
ROASTED BROCCOLI PASTA DIRECTIONS
1. Pre-heat oven to 400 degrees
2. Cook pasta according to package and reserve 1/2 C. of water when draining.
3. In a medium-sized bowl, toss broccoli, walnuts, olive oil, garlic, salt and pepper until coated.
4. Roast in the oven for 15 minutes, turning once.
5. Toss broccoli mixture with pasta, butter and reserved pasta water until well-coated and add the Parmesan cheese.