Cherry Tomato Salad with Homemade Croutons: A New Summer Favorite
I don't recall how I came across this recipe, but I believe it was from the Smitten Kitchen Facebook page since they are a regular in my feed. This tomato salad recipe stuck out because we had a bag of cherry tomatoes in the fridge for about a week or so and some home made bread in the freezer waiting to be used for breadcrumbs or croutons. With basil growing in the back yard and all but one ingredient already in the house, it was the perfect cheap side dish for us.
We varied the recipe ever-so-slightly since we recently ran out of shallots (which we bought SUPER-cheap at the neighborhood Asian food store – $2.50/lb), used all red cherry tomatoes, added some olives and we made the crouton topping from a left over homemade loaf of rye bread. But, it's a really simple recipe and uses a pretty standard base, so, you can't really mess too much up. What I love about cheap recipes using ingredients already on hand and not bought for the specific purpose of a recipe, is that they seem free. Not that I wouldn't use those ingredients up on something else, it just seems overly convenient.
I do love a good salad recipe and when it has fresh, in-season tomatoes, it's bound to be a keeper. If you've never done it before, you can find some really nice guides on how to grow tomatoes so don't be afraid! Combine the acidic flavor of tomatoes with olives and red wine vinegar, and it really puts a summery zip into a meal. Salads also tend to be quick to assemble since there's hardly any cooking time required but prep-time can be a little daunting depending on how many ingredients there are. But, this is also another reason to love this recipe: it has very few ingredients and very little prep time. Hooray!
Alright, let's get on with it then. First, a photo preview: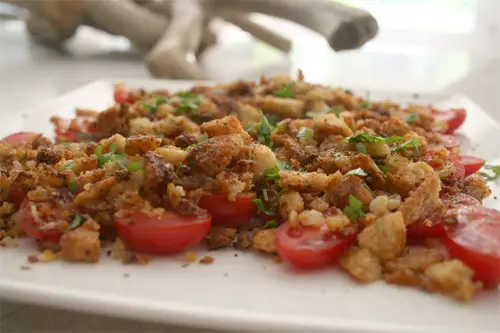 Cheap Cherry Tomato Salad Recipe
Ingredients
1 extra thick slice of stale, homemade rye bread
1/2 of a small red onion, finely chopped
1 clove of garlic, minced
2 Tbsp finely chopped kalamata olives
1/2 tsp fine sea salt
1/4 tsp ground Black pepper
3 Tbsp olive oil
2 Tbsp grated Parmesan cheese
1 Lb of cherry tomatoes
1 Tbsp red wine vinegar
Pinch of sugar
7-8 Large basil leaves finely slivered
Directions
Preheat your oven to 350 degrees F and coarsely chop the slice of bread
In a medium-sized mixing bowl, place the bread crumbs, onion, garlic, 1/2 tsp salt, pepper, 2 Tbsp of olive oil and Parmesan cheese. Toss to evenly coat the crumbs.
Spread crumbs onto a rimmed baking sheet and bake for 12-16 minutes, flipping the crumbs over once.
Once they are golden brown, remove from the oven and let cool on the baking sheet.
Meanwhile, slice all of the cherry tomatoes in half and place on a large plate, cut side up. Sprinkle with chopped olives.
In a small bowl, whisk together the remaining olive oil, red wine vinegar, 1/2 teaspoon of salt, and a pinch of sugar. Drizzle mixture over the tomatoes and olives.
Sprinkle the cooled bread crumbs over the tomato-olive mixture, top with basil and serve immediately.