Empanadas are little pockets full of heaven. They can be baked or fried and can be filled with about anything. Here you'll find some of my very best chicken empanada filling recipes like my personal favorite, Thai Green Chicken Curry and other irresistibles. Impress your husband or your best friends with the perfect empanadas straight from South America.
Before getting started with your empanadas, check out the common empanada mistakes page to make sure you don't make the same mistakes I have.
Slow Cooked Chicken Empanada Filling
Filling Ingredients
2 Chicken Legs w/thigh (skin on and bone in)
1 Whole Yellow Onion coarsely chopped
1 Can whole tomatoes with juice (leave whole)
3 Tbl Yellow Curry Powder
2 Tbl garlic powder
1 tbl coarse sea salt
1 Tbl Spanish Paprika
3 Cups Chicken Broth
Directions:
Brown chicken legs in 2 Tbl oil (approx 5 min each side)
Meanwhile, place tomatoes onion and spices on the bottom of the slow cooker
Place browned chicken pieces on top.
Pour in chicken broth. Cook on Low for 7 hours.
Remove chicken pieces and pull off all the meat. Place into a sifter with a bowl underneath to catch the runoff.
Remove 3 whole tomatoes and 1/8 C onions from the slow cooker, coarsely chop and place into a fine mesh strainer or sifter to drain for 1-2 hours.
Meanwhile, with a fork gently break apart chicken, tomatoes and onion. Stir with a fork until the mixture resembles a chicken BBQ. Combine with drained tomatoes and onions and chill until ready to use.
———————————————————————————————————————————————————————-
Thai Green Curry Chicken Empanada Filling
Filling Ingredients
1 pound boneless skinless chicken breast
2 tablespoon dark soy sauce
1 tablespoon all-purpose flour
1 tablespoons sesame oil
1 tablespoons vegetable oil
3 tablespoons green curry paste
1 Medium yellow onions minced
3 cloves garlic, peeled and finely chopped
1 teaspoon fresh ginger, peeled and finely chopped
1 cup coconut milk
1 tablespoon fish sauce
2 tablespoons white sugar
1 tsp flour
Directions:
Cut into 1 inch cubes then toss chicken first in 1 tablespoon dark soy sauce, then in the flour, coating pieces evenly.
Heat the oil in a large skillet over medium high heat. Place chicken in the skillet, cook and stir chicken until browned, about 5 minutes. Remove chicken.
Reduce heat to medium and stir in curry paste. Cook for 1 minute until fragrant, then stir in green onions, garlic, and ginger; cook an additional 2 minutes.
Return chicken to the skillet, stirring to coat with the curry mixture. Stir the coconut milk, fish sauce, 1 tablespoon soy sauce, and sugar into the chicken curry mixture.
Let simmer, add flour and let thicken for 5-8 minutes. Let cool or chill until needed.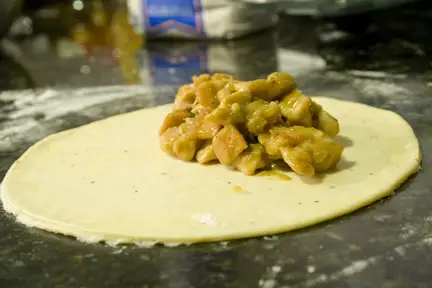 ———————————————————————————————————————————————————————-
Pulled BBQ Chicken Empanada Filling
Chicken Preparation
3 pounds chicken thigh and leg (skin on, bone in)
1/4 Cup apple cider vinegar
1 tablespoon mustard seed
3 bay leaves
2 tablespoons salt
water
Wash chicken and place into a slow cooker
Pour in vinegar, mustard seed, bay leaves and salt
Fill with water until just covered
Filling Ingredients
6 Cups of pulled pork
2 Tbl chopped fresh thyme
1 Tbl powdered cayenne
2 Tbl powdered garlic
2 Tbl ground black pepper
1/2 C. Barbecue sauce
4 Whole fresh tomatoes (seeded, peeled and diced)
1 Tbl salt
Directions:
In a medium-sized bowl, stir all ingredients until well-mixed and let cool to room temperature.
Also check out our beef empanada, seafood empanada and pork empanada filling recipes.