This recipe for garlic roasted cauliflower is more of an extension of a recipe I've used with roasted broccoli in a pasta salad. I loved how the other recipe turned out and needed a quick, cheap dish to take to an Easter cookout. To me, cauliflower has a nicer texture to it and is more versatile than broccoli, so it seems natural to make the switch.
We took the dogs to a barbecue where they served up sausages, hamburgers and the staples: guacamole, pico de gallo and refried beans.  Our roasted cauliflower fit in nicely with the spread. Here's how the recipe goes for 8-10 people:
GARLIC ROASTED CAULIFLOWER INGREDIENTS
2 heads of fresh cauliflower
5-6 Garlic cloves sliced into ultra thin rounds (think Goodfellas)
1 whole fresh jalapeño, seeded and diced
1 small yellow onion, diced
1/4 C. olive oil
1 Tbsp coarse sea salt
1 Tbsp fresh chives, finely chopped
1 tsp fresh ground pepper
GARLIC ROASTED CAULIFLOWER DIRECTIONS
1. Pre-heat oven to 400
2. Clean and cut the cauliflower into florets and place in a large mixing bowl
3. In a small dish, combine oil, garlic slices, chives, salt, pepper, jalapeño, and onion and mix well.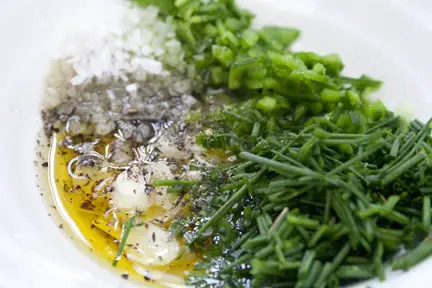 4. Pour over the cauliflower florets and toss until well-coated.
5. Spread seasoned cauliflower in a single layer on two cookie sheets.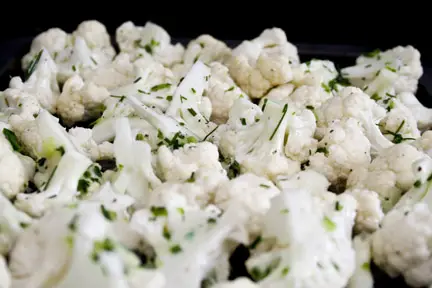 6. Place inside the preheated oven and roast for 20-25 minutes or until slightly browned and tender. Stir halfway through cooking.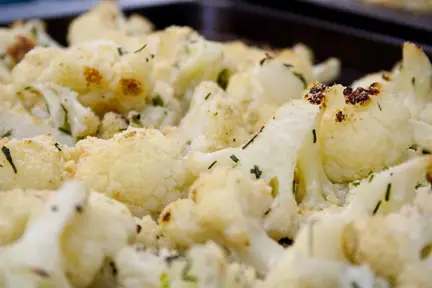 7. Cover your roasted cauliflower and take to any cookout, or serve immediately.