I can't seem to get off of my Food and Wine kick lately. Someone left a recent travel issue in the office that had an intriguing looking tostada dish on the front. There's nothing more interesting to me than adding differently worldly flavors to the dinner plate, which is why I picked up the magazine and thumbed through it. Quite a few recipes caught my eye, but one in particular seemed super-easy but also combined quite a few unique flavors. Sausage always adds a lot of flavors to dishes and when layering in pasta, I kind of knew it would be a win.
Textured pastas have been a focus lately; penne regate and even spaghetti regate, which I didn't know existed until I bought it by accident a few months ago. The ridges really hold in the sauce where the traditional pasta varieties let a lot of it slip right off. Flavor pockets. That's what makes the difference between a good pasta style and an 'eh' pasta variety. Orecchiette is one of those pastas that seem to be engineered perfectly to hug the ingredients and sauce in the dish. Little particles of goodness rest comfortably in the center nook of the pasta making certain you're not left with a ton of extra ingredients in your bowl long after you've taken your last forkful of pasta.
Here is the adapted recipe found in an office issue of Food & Wine magazine: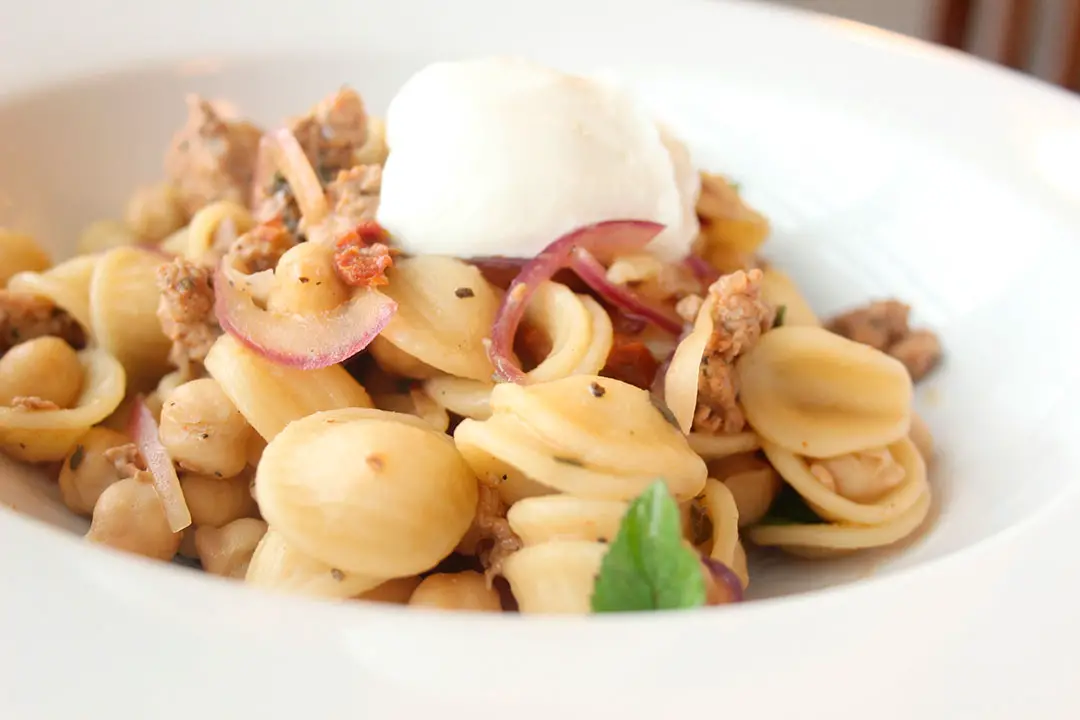 Sausage with Orecchiette, Red Onion and Garbanzo Recipe
Ingredients:
12oz Loose Italian Sausage (I used Trader Joes Sun-Dried Tomato Pork Sausage)
1 Small Red Onion, Sliced
1lb of Orecchiette Pasta Cooked Al Dente
3/4 C. reserved pasta water
1 15oz Can of Garbanzo Beans
2 Tbsp White Wine Vinegar
1/4 C. Small Mint Leaves
1/2 C. Plain Greek Yogurt (make sure it's not sweet)
Fresh ground black pepper to taste
Directions:
In a large high-walled skillet, cook Italian sausage until cooked through, breaking into small pieces. About 7 minutes.
Add sliced red onion and cook until slightly softened, about 3 minutes.
Add cooked Orecchiette and reserved pasta water, along with the white wine vinegar and garbanzo beans. Cook on low heat until hot and coated. About 3 minutes.
Remove from heat, stir in mint leaves and add ground black pepper to taste.
Serve immediately with a dollop of Greek yogurt on top.