Being from Maryland and having the Chesapeake Bay at my disposal growing up, I've grown accustomed to fresh seafood anytime. This helped to quickly develop my palette for high-quality seafood at premium freshness. And of course my love for Old Bay. Below are some recipes for empanada fillings that include a lot of the foods I've taken for granted most of my life and now can't live without. But, before you get started on your empanada filling, don't forget to check out some common empanada mistakes that I've discovered along the way while perfecting my Argentinian empanada skills.
Citrus Tuna Empanada Filling
Filling Ingredients:
Makes 6 medium-sized empanadas.
2 TBSP extra virgin olive oil
1 TBSP butter
1 small yellow onion, minced
1 carrot, scrubbed and cut into small dice
1 celery rib rib, scrubbed and diced
salt and pepper, to taste
2 Tsp Old Bay seasoning
zest of 2 mandarin oranges
zest of 2 limes
2 small cans chunk white tuna in water, drained
3 Tbsp dry white wine
Extra lime and orange zest
Directions
In a medium-sized pan, melt butter and cook onion, celery and carrot until al dente (approx 2 minutes)
Toss onion mixture into a mixing bown with all other ingredients and mix until well-incorporated.
When assembling the empanadas, use extra orange and lime zest on top when brushing with egg wash.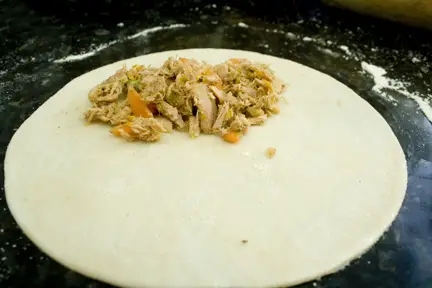 ———————————————————————————————————————————————————————
Shrimp Bisque Empanada Filling
Filling Ingredients:
Makes 12 medium-sized empanadas.
1 lb peeled and deveined medium shrimp
1/2 Cup minced yellow onion
3 garlic cloves minced
1 Tbsp unsalted butter
2 Tbsp flour
1 Cup heavy cream
Salt and pepper to taste (add Old Bay if you like)
3 egg yolks, well beaten
Directions
In a deep saute pan on medium-high heat, melt 1/4 cup of butter and add onion and garlic. Cook until soft or 2-3 minutes.
Chop raw shrimp into small pieces.
Add shrimp to the pan and saute until pink and no longer translucent, 2-3 minutes only. Remove from pan and set aside.
Melt 6 tablespoons butter in the shrimp pan and stir in flour until smooth.
Add cream, salt and pepper and cook, stirring constantly, until smooth and thickened.
Stir small amount hot mixture into egg yolks, then stir back into sauce. Add shrimp and let cool completely, or chill for one hour before assembling your empanada.
Check out another similar recipe for a Fish and Lobster Pie from a fellow foodie. Or check out our chicken empanada, beef empanada and pork empanada filling recipes.