Costa Rica translates to 'Rich Coast'. Christopher Columbus, the Great Navigator himself, was the first European explorer to encounter Costa Rica in September 18, 1502. As he was setting anchor off shore, a crowd of local Carib Indians paddled out in canoes and greeted his crew warmly. Later, the golden bands that the region's inhabitants wore in their noses and ears would inspire the Spaniard Gil Gonzalez Davila to name the country Costa Rica.
No matter what the history books have said, I think the real gold wasn't discovered until I walked into the Waffle Place in Escazú. This gold mine is located in the Golden Plaza close to Multiplaza Escazú. Talk about rich, delicious food. And affordable to boot! My husband claims that I've acquired a knack for choosing the best thing on the menu the first time, and in this case I did. Now, it's been a few weeks since I've been there and I have been lazy about posting, so I'll let the pictures and descriptions do the talking.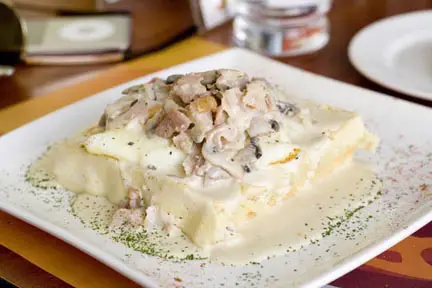 The owner spent two years in Belgium studying the intricacies of waffles and the cuisine specific to that country and region. The menu is probably bigger than it should be, but I have yet to find something I didn't love. I always get the waffle with creamy bacon and mushroom sauce over a fried egg. The first time ordering, not having seen the actual waffles themselves, I imagined something completely different. But, to my surprise the flavor was bursting and the richness unrivaled. Also shown here is a waffle with bacon and a fried egg over hashbrowns and topped with honey mustard for the perfect balance of sweet and savory.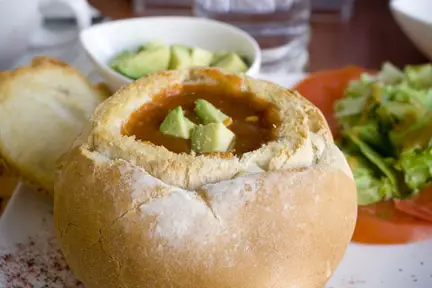 They have a great lunch menu, as you can see from the soup in sourdough bowl (not uncommon in the US, but very scarce here in Costa Rica), there is more than just waffles here. Shown is a creamy tomato soup with avocado and a side salad. It's pretty much guaranteed you'll leave The Waffle Place more than just full, but completely satisfied.