WHAT'S SO GREAT ABOUT BUBBA'S?
There are several places in Jaco, Costa Rica to find fish tacos, or any tacos for that matter, like the Taco Bar and Jaco Taco, but we have certainly found our winner for best flavor, freshness and price. Bubbas was a little hole-in-the-wall place for several years and was recommended to us by our friends in Playa Matapalo. We went for the first time about 6 months ago, but each time I went, I was too excited about actually eating that I forgot to take pictures of the food and the place. Lame excuse I know, but I finally got a few pictures, but still forgot the actual tacos.
WHAT TO ORDER AT BUBBA'S
The place is pretty non-descript, but has a blue sign saying BUBBA'S with a marlin on it. There are about four aluminum 4-top tables with a basket of various hot sauces in the middle. No matter what you see on that menu, get the fish taco, all the way. That includes fresh grilled Mahi, cabbage, cheddar cheese, fresh tomatoes, onion, jalapeños, lime and a large dose of delicious! They come with a buttered 'elote' or corn-on-the-cob and don't forget to order the fresh cut french fries and a lemonade. I'm telling you, you'll never think twice about the other taco places in Jacó after you've left Bubba's. Now, no matter if we are just driving past Jacó coming from Dominical or spent the day in Esterillos, we make it a point to grab a fish taco before heading home. The best part is, you can get the taco, fries and a drink for about $6, which is more than I can say for the other places.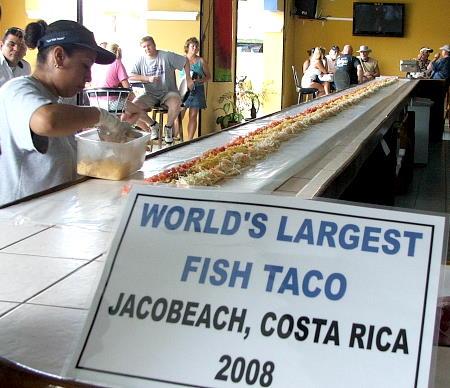 BUBBA'S HAS A GUINNESS RECORD
As it turns out, according to the Guinness Book of World Records and the Junk Food News, back in August of 2008, Bubba's took the world record for biggest fish taco. 100% of the proceeds went to establish a reef conservation project at a local highschool in Jacó. "The mission of www.reefball.org is to rehabilitate the world's ocean-reef ecosystems and to protect the natural reef systems using artificial reef technologies. Reef Balls are artificial reef modules placed in the ocean to form reef habitat."
Now the little taco stand has moved two streets north and onto the beach. I don't recall what is next to it, but everyone in town knows where it is. Bubba also runs a very successful deep sea fishing charter company, so make sure you check that out.