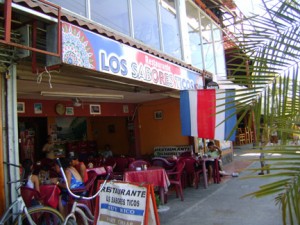 So, we finally made it to the beach this weekend and chose the tourist hotspot, Jaco Beach or Playa Jaco. We would have preferred something less busy, but it's the closest to San José and without a car, we are trying to limit our time on the bus. It takes about 3 hours by bus to get to Jaco from the center of San José at the Coca-Cola Bus Terminal. Sidenote- you don't want to spend a lot of time in the Coca-Cola district.
The first place we went to eat in Jaco was by our hotel, just on the edge of the main Jaco shopping strip. It is called Los Sabores Ticos (The Tico Flavors) and I am going to rave about their food. Typically sodas are sodas (traditional tico restaurants) in Costa Rica, until you find the hidden gems. And we hit the jackpot on Sunday morning when we stumbled on the first eating establishment we came across. Los Sabores had large delicious papusas with meat, black beans and cheese for 500 colones, which is a little less than $1. The beef inside was slow cooked and perfect. I also had a fruit plate with granola (about a $1.50), and you can't really beat the fresh fruit of Costa Rica.
There are a lot of expensive places to eat in Jaco, so make sure you are looking for the most non-descript place with dishes for 1,500 colones, plus or minus. And remember them always.