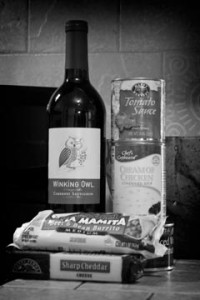 Narrowing down where to shop for cheap food is a necessity when you are trying to be efficient and save money on groceries. Most people are saying to buy the generic brands, but others are saying clip coupons. I have found that coupons on brand names are almost always still more expensive than buying generic. But, there may be professional clippers out there that have found a way.
On the other hand, ALDI is a great place to go for cheap wine (hooray for Winking Owl Cabernet!!) and the basics of cooking like olive oil, flour, snacks, etc. But, you can't overlook the hidden surprises. I say hidden because everything is kind of a free-for-all but knowing where the goods are is the key.
For example, there are $0.35 boxes of macaroni and cheese (it is the powdered kind, but still if you are buying this stuff anyway, holy Christmas!), a three-pack of bell peppers (red, green, orange) for $2.75, and frozen beef and bean burritos for $0.30 each. Mostly everything is cheaper than in the grocery store, but you can't count on finding everything you need at ALDI. Cheap food, yes. Gourmet food, no.
Oh and I couldn't forget the amazing way they do checkout. They ring your items up and put them all in another grocery cart to bag/box yourself in another area. This REALLY speeds up the process. Plus, they encourage you to bring your own bags by charging you for paper and plastic ones. Brilliant; I love it.