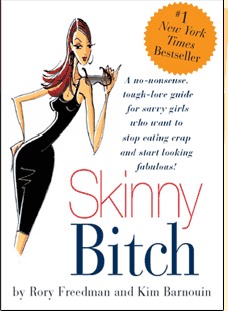 I just read the book called Skinny Bitch this week, and I think it has ruined me. Well, in an eating-junk-and-meat sort of way. It's a good book with mostly good information, but written in an over-the-top California snobby super-model style. What I mean is, there is a lot of cussing and inappropriate language, for shock factor and humor, but it starts to grate on your nerves after a few chapters. Anyway, it reveals some pretty eye-opening statistics (cited and verifiable, of course) about animal cruelty in slaughterhouses; chemicals, hormones and pesticides that get into the meat, cheese, and eggs we eat; and how the FDA is a corrupt government agency that is being led and persuaded by the farm associations doing all the harm.
So, as a result, I am grossed out by meat, and more careful about the eggs and cheese I eat. Luckily (I think), I am in Costa Rica and there are many little farms here that are organic, humane, and healthier than the mass-produced animal farms elsewhere (although, I can't speak for the cattle, most is sold to the US/Burger King companies). So, I am on the search for organic, healthy foods that exclude meat and it's tougher than I thought, especially being in Costa Rica. Although, I am living in San Jose, which will have something even if the rest of the country doesn't.
I found a great website for vegan/vegetarian recipes developed by the International Vegetarian Union (IVU). It can't guide me on where to find items in Costa Rica, but I am determined to comb through all the local grocery stores. Each one has their own great features, which will be in a different post, but the organics sections are small! And so, the hunt for cheap organic food in Costa Rica begins.