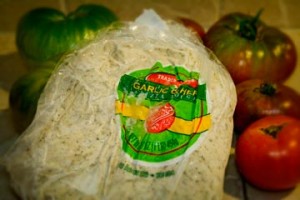 One of my favorite cheap foods is homemade pizza. The herb dough from the refrigerated section of Trader Joe's is great and you can freeze it until you are ready to use it. Just let it thaw out for about a half hour and then spread it thin for the crust.
The instructions don't tell you to do this, but if you pre-cook the crust for 5-7 minutes before putting on the sauce and toppings, the pizza turns out WAY better. If you don't, it can be kind of mushy. Especially when you like to put on a ton of different toppings like i do.
Using up your salad ingredients on pizza is a great way to get rid of what is in your fridge before it goes bad. The types of pizzas I am known for are:
Bacon – green pepper – scallion
Tomato – basil – feta
Mushroom – onion – pepperoni
You can also find pizza dough at local bakeries and pizza shops, so happy shopping!