Five Bucks Drinkery – St. Petersburg, Florida
We've recently been on the hunt for cheap food in St. Petersburg, Florida since moving here a few weeks ago. We've cruised around the downtown area a few times with friends to help us get acquainted with the area and on one particular visit we were showing around some friends visiting from Tennessee. After visiting the Saturday farmer's market, we strolled down to Central Ave where there are some great restaurants and stores by the water.
We saw some places that weren't screaming 'cheap food' at us, like the BellaBrava, but we thought we'd pop our heads in for a beer. I'm sure the waitresses at these places weren't thrilled that we were ordering the happy hour Bud Light special and no food (we tipped well), but we were more interested in checking the places out and having a beer or two and moving on to the next place. This was our kind of tour of St. Pete and a chance to check out the menu at places that might pique our interest for a later time.
After a little bar/restaurant hopping, we walked into the 5 Bucks Drinkery and our world changed. It was around lunch time, so we were one of the first (if not THE first) customers of the day. The six of us bellied up to the bar and got quickly acquainted with the big-ass beers. While they aren't under $5, they were just a dollar more and were 32oz of deliciousness.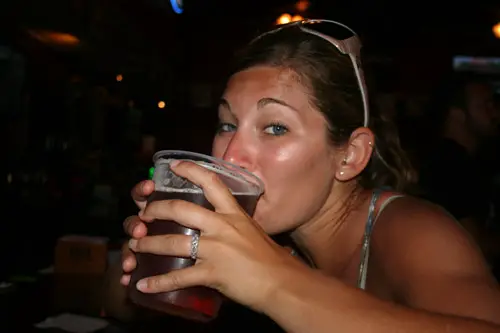 They had all kinds of great beers on tap as well as an endless supply of bottled beers. I settled for the Magic Hat #9 and started to peruse the menu just to see.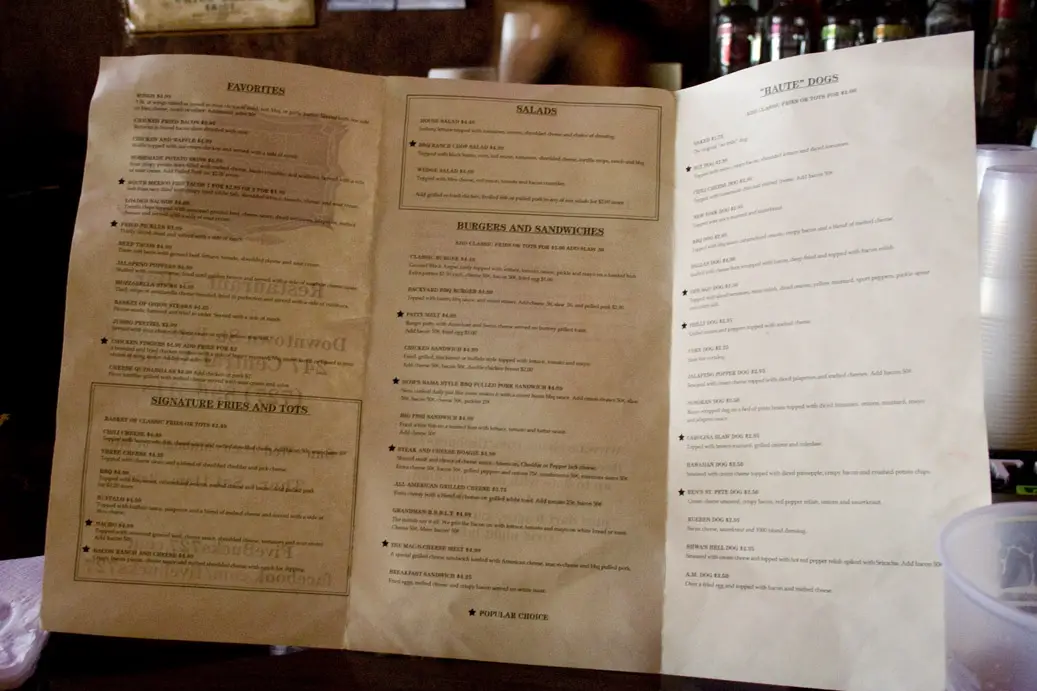 That's when I fully understood the name "5 Bucks Drinkery". There wasn't anything on the menu over $5. That includes everything from a patty melt (which I've had and is delicious, but isn't as good as a Waffle House or Denny's patty melt…sorry folks) to loaded tots and their 'haute' dogs.
Sometimes there is something on a menu that I just have to try, no questions asked, no buts, I just have to. The 5 Bucks Drinkery had that item on their menu that I knew I couldn't walk out without having tried. Their broad menu touted a few 'Favorites' including deep fried bacon with a maple syrup dip. Um, hello? Fried BACON? Like, deep fried bacon? Yes! They call it 'Chicken Fried Bacon' but my guess is that the batter is the same as their chicken and they want to be clear that it's not just traditional pan-fried bacon. So, for $2.99 we ordered a basket of deep fried bacon with maple dipping sauce never to be forgotten.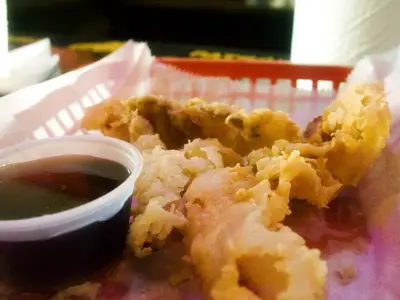 The bacon was cooked well-done inside, the way I like it, and had a crispy batter coating it around the outside. The whole experience was like dipping bacon into pancake batter and pouring maple syrup on it. It was as heavenly and intriguing as we had hoped. This 5 Bucks Drinkery gets a gold star for a great cheap beer menu and awesome deep fried bacon!