One of our latest outings to the St Pete Saturday Morning Market resulted in a purchase of habañero jelly, something I never thought I would like, let alone, love. We were plucked from the passers-by after being enticed by free samples (duh, who doesn't love free samples of food!) and tried almost all the gourmet jellies this guy had to offer. We jumped from pineapple to berry to jalapeño before finally landing on the habañero flavor. The salesmen called the sample we had an adult PBJ since it was on a pretzel square with peanut butter and the spicy habañero jelly to top it off. We loved it. There was a great kick to my favorite classic peanut butter pretzel and did taste like a PBJ. We were sold.
Once we came home with the prized jelly, I was anxious to make a true adult peanut butter and jelly sandwich. So, I broke out four slices of bread, spread peanut butter (creamy is the only way!) on two and the habañero jelly on the other two. My husband and I took a couple of bites of the sandwich before really feeling the effects of our mistake. The heat of the peppers was not absorbed or toned down by the peanut butter or bread or sweetness. It was crazy-hot. We suffered through it, but vowed not to make that mistake again. There was definitely too much of a good thing here. Thus, the habañero jelly sat in the cubbard for several weeks before making it's second, more pleasant debut.
I placed the chicken in a shallow dish, added olive oil and some aged rich balsamic vinegar when the habañero jelly jar caught my eye. So, what the heck, I scooped out a tablespoon and mixed it in the marinade on the chicken. Before I get too far into this without specific instructions, here's the recipe.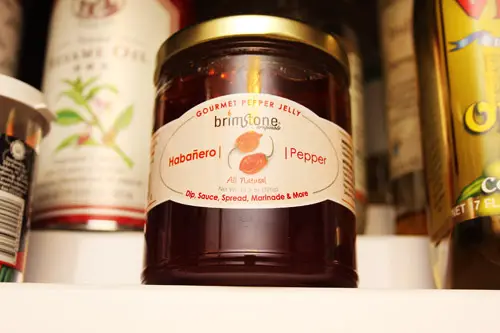 The Balsamic Habañero Marinade Recipe
Serves 4
Ingredients:
4 Boneless, Skinless Chicken Breast Filets
2 Tbsp Olive Oil
2 tsp Balsamic Vinegar
1 Tbsp Habañero Jelly
Directions:
Preheat the grill to 400-500 degrees.
In the bottom of a shallow dish (I used a pie dish), pour in and spread around the olive oil.
Place in washed chicken filets.
Pour the balsamic vinegar over the chicken and swish around the pieces to blend the oil and vinegar.
Spread the habañero jelly over the four filets and move them around the dish to blend and coat the chicken breasts.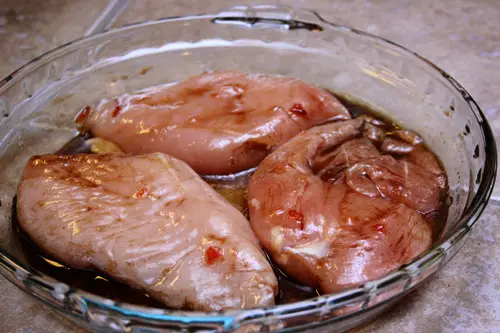 Using tongs, place the chicken on the grill and turn after 5-7 minutes cooking for 5 more minutes. Check for pink with a knife and the filets are done if there is just clear juices. Do not overcook.
Serve with a vegetable, such as grilled zucchini.