Homemade Shepherd's Pie: An English Tradition
Shepherd's pie is often the topic of debate by those who argue whether it was originally made using lamb (mutton) or beef. It would make sense that it started as a lamb dish since that's the basis of the name, but I don't believe I trust any web source to know the absolute truth. Certainly not Wikipedia, however, according to them, the name 'shepherd' didn't come into the mix until about 80 years after the name 'Cottage Pie' was used. Whatever origin or name you want to give it, you can put 'delicious' in front of it and be safe, because that's what it is.
Shepherd's pie in our house usually just means if we have ground meat and potatoes, we can figure out what else to throw in our pie. This version of the dish that I'm about to share with you was the best we've made so far and the reason for that is simply because we had made a delicious mushroom wine pan sauce the night before to put on top of some chicken. We had a good bit left over and used it in the sauce blended in with the ground beef layer. This added a real pop to that part of the shepherd's pie, but I'm going to improvise the actual ingredient amounts since it was created on the fly the night before.
My husband and I have an ongoing debate ourselves as to what ingredients make the best shepherd's pie, where I believe peas are a key ingredient as their own layer and Jonathan is a firm believer in green beans. Maybe you say it's 6 one way and half a dozen the other, but for me, the peas give a critical dynamic to the flavor without the rigidity of green beans (we're talking FRESH here, never canned and mushy). However, for the purpose of this shepherd's pie recipe, we did use his green beans, and yes, it was delicious. Jonathan 1: Ashley 0.
Since we've just recently moved back to the states, we only shipped a few of the kitchen items that were either gifts, the performance of them were irreplaceable or it just made sense to keep them. Casserole dishes were not on the list for a few reasons: 1) the quality of cheap glass in Costa Rica was terrible 2) the good stuff was way too expensive so we never bought it and 3) glass casserole dishes in the States are very cheap. So, we still haven't prioritized them in our household items budget to get them, but we're close. Instead, we used our loaf pans, which did the trick just fine.
Here's how we made our 'to-die-for' Shepherd's Pie:
Shepherd's Pie Recipe Ingredients
1 lb ground beef
1/2 C. left over mushroom, white wine pan sauce (or sauté 1 C fresh button mushrooms in a touch of oil, then add 1/8 C. dry white wine and reduce slightly.)
1 lb fresh green beans, washed, ends clipped and cut into 1″ pieces
4 large russet potatoes, peeled and cut into cubes
2 large tomatoes, skinned, seeded and diced
1 medium yellow onion, diced
3 cloves of garlic, minced
1 sprig of fresh rosemary
1 Tbsp garlic powder
1/4 C milk or almond milk (unsweetened)
2 Tbsp salted butter
2 Tbsp grapeseed oil
Salt and pepper
Shepherd's Pie Directions
Preheat oven to 375 degrees
Heat a medium-large pot with water to boiling and add 1 tsp of salt, the sprig of rosemary and cubed potatoes. Cook until they fall of the fork when poked. Drain, discard rosemary sprig and set potatoes aside.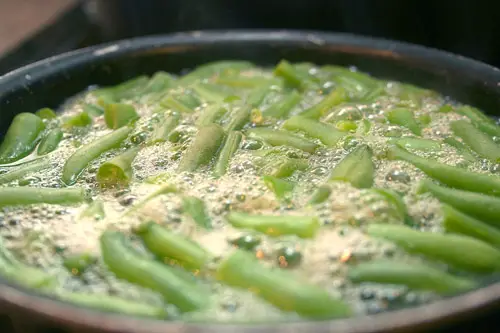 Heat a small pot with water to boiling and add the green beans. Cook to al dente and still have green color. Drain and run under cold water.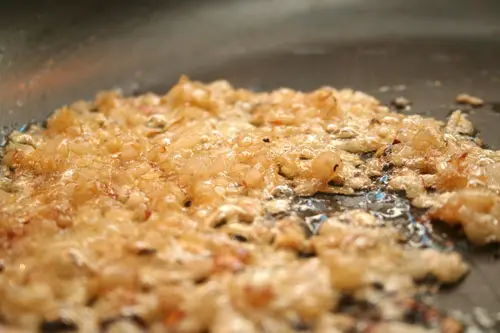 Meanwhile, in a large, deep frying pan, heat the grapeseed oil to medium-high heat and add onions.
Once the onions are translucent, add the minced garlic and ground beef. Cook until brown all the way through then drain off fat.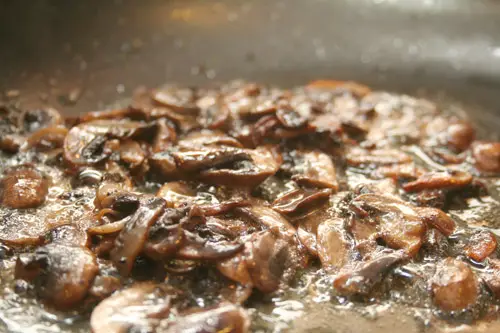 If you have the pan sauce ready, add it to the beef mixture already in the pan and bring up to temperature.
If you don't have a pan sauce ready, sauté the mushrooms on medium-high heat with an additional 1 Tbs of grapeseed oil until soft. Add white wine and reduce for 3-4 minutes. Then add to onion and garlic mixture and continue.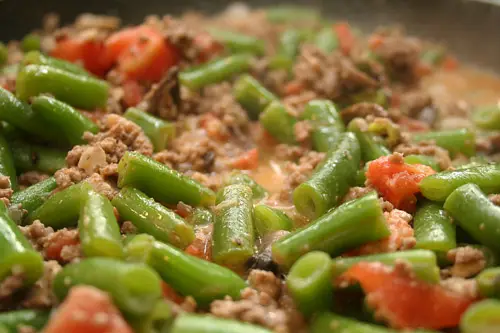 Add the green beans and diced tomatoes to the beef mixture and bring up to temperature, stirring to mix thoroughly. Set mixture aside.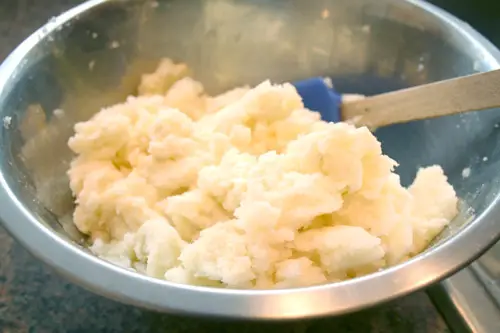 In a large mixing bowl, mash the cooked potatoes with garlic powder, butter and milk until smooth with few lumps.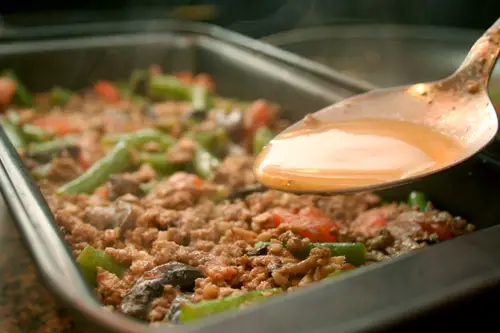 Pour beef mixture into a casserole pan (or in our case divide into two loaf pans).
Top with mashed potatoes and bake in the oven for 20 minutes or until bubbling.
Remove from the oven and let sit for 5-10 minutes before serving.