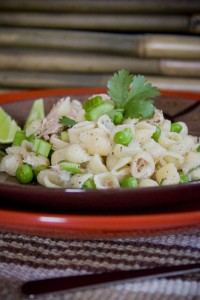 I was given a Costa Rica cookbook for my birthday this year and this was the first recipe I've tried, with some personal tweaks of course. It is a tuna pasta salad and uses my favorite shaped pasta, shells. I was surprised to see that the recipe didn't call for much in the way of sauce except the mustard, so that's where the improvising began. This is the Cheap Food Here version of the recipe:
INGREDIENTS (Serves 4)
1 8.8oz (250 grams) bag of mini shell pasta
1 standard sized can of premium chunk white tuna fish
1 cup baby peas
2 Tbl cilantro, finely chopped
2 cloves of garlic, minced
1/2 medium-sized onion, finely chopped
1 stalk of celery, finely chopped
Juice from 1/2 a lime
1 Tbl mustard
2 Tbl red wine vinegar
2 Tbl Olive Oil
Garlic salt and pepper to taste
DIRECTIONS
1) Cook the pasta to al dente, according to package. Then rinse with cold water.
2) In a large bowl combine all remaining ingredients with the pasta and stir.
3) Serve on a bed of lettuce.