This coconut soup is a variation of a recipe I had seen a long time ago that included peanut butter and was more of an Indian-influenced dish, but for this one I wanted a cheap recipe that could be prepared in a short amount of time.
One thing I learned recently, is that some believe coconut to be a mild aphrodisiac. This being said, I think we know why piña coladas have become so popular. I will be sure to add more coconut to my recipes however possible.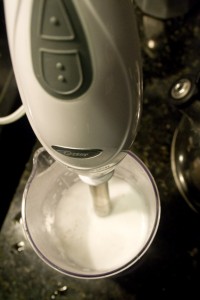 One way to make cheap coconut milk is to buy the dried coconut flakes and make the milk by reconstituting it. The canned variety can range in price anywhere from $1.00 to $2.50 for 14oz. The flakes range in price from $.50-$1.00 for a bag of roughly 2 cups.
Basically, what you need is 2 cups of boiling water for every 1 cup of coconut flakes. Place boiling water and coconut flakes in a blender and blend on high for 30 seconds to 1 minute, let rest for 4 minutes and then blend again for 30 seconds to 1 minute. Then strain the mixture through a fine mesh strainer or sieve, catching the liquid and discarding the flakes, and you've got coconut milk.
While there are certain recipes that call for the extra thick and fatty coconut milk, sometimes I prefer a light version of coconut milk, which is when I use this method. This is a good alternative to the canned stuff, but sometimes you need the real deal. However, for this recipe, I used chicken broth as well, so the coconut milk is used to supplement the flavor and add a tropical flavor, thus the re-constituted process works well.
Here is the soup recipe, which was great for a Saturday lunch. It serves four large portions or six medium-sized portions that could compliment a nice salad or sandwich.
Coconut Aphrodisiac Fish Soup Ingredients
1 ½ inch of ginger, minced
3 garlic cloves
2 peeled tomatoes (without seeds)
1 sliced onion
½ diced bell pepper
1 cup of water
Himalayan salt
black pepper
3 Cups of Chicken Stock
1 Can (400 ml) of coconut milk
A bunch of fresh thyme
1 Habañero chili
1 cooked carrot and potato cut into medium pieces.
1 lb of fresh white fish (we used Tilapia) cut into big chunks.
Coconut Aphrodisiac Fish Soup Directions
In a large pot, add the coconut oil, minced ginger, garlic, onion, tomato and bell pepper.

Saute for 1-2 minutes until the veggies are fragrant.
Add chicken broth and allow to cook for about 10 minutes.
Using a submersion blender, blend the soup mixture.
Stir in coconut milk, salt, pepper, carrot, potato, bundled thyme and habañero pepper. Let cook until carrots and potatoes are soft, about 12 minutes.

Finally, add the fish and allow to cook for 3 minutes before removing the pot from the heat

Remove the thyme and serve hot