One of the most important things you can do to ensure your empanadas turn out the way they should is use the best ingredients possible, while keeping things affordable. I would say this is most important consideration with pork fillings. The slow-cooked varieties are much more forgiving since you're cooking the meat for an extended period of time (6-10 hours) but you'll notice a huge difference in flavor with premium meats and produce. Check out the common empanada mistakes page before you start anything so you can see what to avoid instead of ruining the first few batches of empanada filling.
Ham and Cheese Empanada Filling
Filling Ingredients:
2 Tbl Butter
1/4 C. Dry White Wine
1 C. Yellow Onion finely chopped
2/3 C. heavy cream
1 Tbl Flour
3 Tbl Dijon Mustard
2 C. Chopped Ham
2 C. Shredded Pepper Jack or Cheddar Cheese
2 Tsp Cracked black pepper
1 Tsp Salt
Directions:
Heat butter in pan and sautee minced onion for 2 minutes until clear.
Add White wine and cream
Fold in cheese and stir until melted
Add chopped ham and stir until integrated. Let mixture cool and thicken.

———————————————————————————————————————————————————————
Sausage, Cheese and Blackbean Empanada Filling
Filling Ingredients:
1 large onion, chopped
2 tablespoons vegetable oil
2 teaspoon cumin
2 teaspoon chili powder
1 tsp salt
1 tsp garlic powder
1/2 tsp cayenne powder
2 small tomatoes from a can, diced
4 Mexican chorizo sausages
1 tablespoons sugar
1 15-ounce can black beans, rinsed and drained
1/3 cup raisins (optional)
4 ounces monterey jack cheese, shredded
Salt and pepper to taste
1 egg yolk
Directions:
Prepare empanada dough and chill.
Remove casings from sausages and roughly chop. Sauté sausages in 1 tablespoon of vegetable oil until nicely browned. Remove from skillet and set aside.
Add 1 tablespoon vegetable oil and chopped onion to the skillet with the cumin and chili powder. Cook onion, stirring often, until soft. Add tomato and 1 tablespoon sugar and cook a few minutes longer.
Mix onions mixture and sausage together in a bowl. Stir in grated cheese. Season with salt and pepper to taste. Chill mixture for about an hour (or overnight) if possible.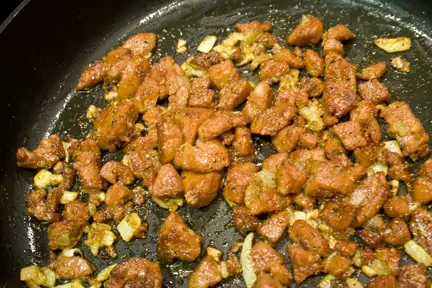 ———————————————————————————————————————————————————————
Calzone Empanada Filling
Filling Ingredients:
1 Cups Ricotta
1/2 Cup Mozzarella
1 Cup diced salami
1 Cup canned diced tomatoes
1/8 Cup Fresh Oregano
4 Cloves of garlic, minced
1 Tbl Salt
Directions:
Prepare empanada dough and chill.
Drain tomatoes for 30 minutes to 1 hour in a fine mesh strainer.
Coarsely chop salami and place into a medium-sized bowl.
Add the remaining ingredients and mix well.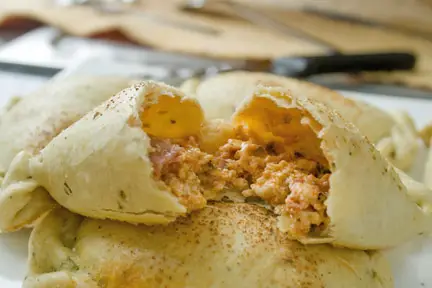 If pork isn't your thing, check out our chicken empanada, beef empanada and seafood empanada filling recipes.