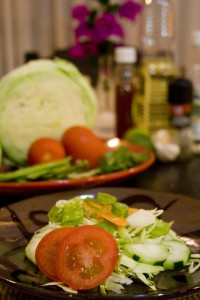 In Costa Rica, the salads are mostly made with a base of cabbage as opposed to lettuce. My best guess at the reason why is because cabbage is heartier and a head will stretch farther than a head of lettuce. Another notable difference with salads here is that they rarely use much of a dressing. Mostly just a little oil, lime juice and sometimes a splash of vinegar. This weekend I tried my hand at a Costa Rican typical salad, but with a twist (of course!).
(Serves 4)
SALAD INGREDIENTS:
• ½ head of green cabbage, sliced in very thin strips (much like coleslaw)
• 2 Tbl fresh cilantro, coarsely chopped
• 10-12 snow peas, stems removed, chopped in 1" pieces
• 1-2 green onions, sliced into thin rings (use white and green part)
• 1 large carrot, peeled and sliced at a sharp angle to make oval rings
• 2 Roma tomatoes, thinly sliced into rings
DRESSING INGREDIENTS:
• ½ C. olive oil
• ¼ C. white vinegar
• 2 Tbl. Honey
• 2 Tbl cilantro
• juice from 1 lime
• ½ fresh jalapeño pepper (seeded)
• garlic salt and fresh cracked pepper to taste
DIRECTIONS:
Simply toss all the salad ingredients into a large salad bowl and blend dressing ingredients. Pour dressing over salad mixture.