A food that everyone else seems to love that I never really got into growing up or even as an adult was sweet potatoes. It's not something that I ever ate at Thanksgiving, even if it was full of brown sugar with marshmallow topping. Call me crazy, but I never liked it. However, not too long ago a friend of mine made sweet potato fries and I've had them as well at restaurants before, and the sweet and salty combo was really delicious.
It wasn't until my recent order of delivered organic groceries that I considered making sweet potatoes of my own. Plus, the version here in Costa Rica is called the Boniato or Batata, which has a purple skin and is white inside and with a different type of sweetness. When I came to them on the NaturaStyle list, I remembered the fries I had in the past and my friend's affinity for Costa Rican coconut oil and decided now was the time to try them.
I decided on chips instead of fries and I absolutely loved them. It was a perfect sweet/savory snack and will be a regular on the list of party snacks. Here is how the recipe went:
SWEET POTATO CHIP INGREDIENTS
• 1 Kilo of sweet potatoes, boniatos or batatas
• 2 Cups of Coconut Oil
• 1 Tbl of coarse sea salt
• 1 Tsp fresh flat-leaf parsley
SWEET POTATO CHIP DIRECTIONS
1. Pour coconut oil into a large, deep skillet and heat on medium to medium-high heat (the oil should glisten and send up a slight wisp of smoke when properly heated.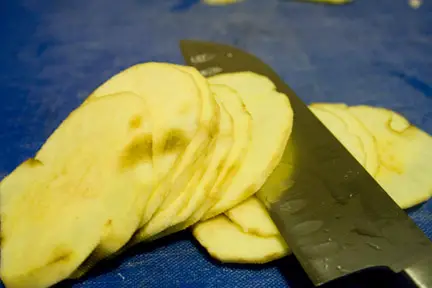 2. While the oil is coming to temperature, peel the potatoes and slice them to 1/8″ thick.
3. Place the slices of potato in the pan until no more will fit without overlapping.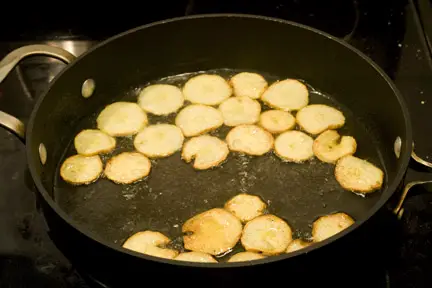 4. Cook for 4-6 minutes, turn with a set of tongs and cook for another 3-5 minutes until golden brown. For crispier chips, allow them to come to a rich brown color, but be careful not to burn them.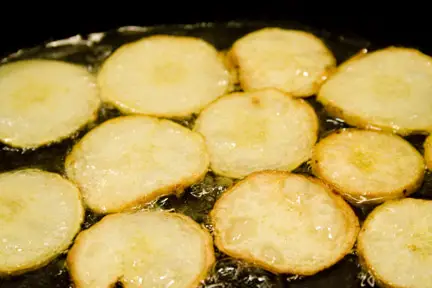 5. Remove the cooked slices and place on a paper towel to catch the excess oil. Sprinkle with sea salt and parsley and allow to cool.
6. Repeat steps 3–5 until you've used all of the potato slices.